What is a Work Breakdown Structure (WBS)?
Today a work breakdown structure is a frequently used tool in project management. The Project Management Book of Knowledge (PMBOK) defines a WBS as "A hierarchical decomposition structure that presents work that has to be completed by a team in order to meet project management milestones."
In other words, WBS is a key project deliverable that organizes team's work into manageable sections through a deliverable- oriented breakdown of a project into smaller components.
A WBS in Project Management simply serves as a project's backbone and provides a clear visual overview of the work to be performed. Below is a snapshot of a common visual representation of a WBS example.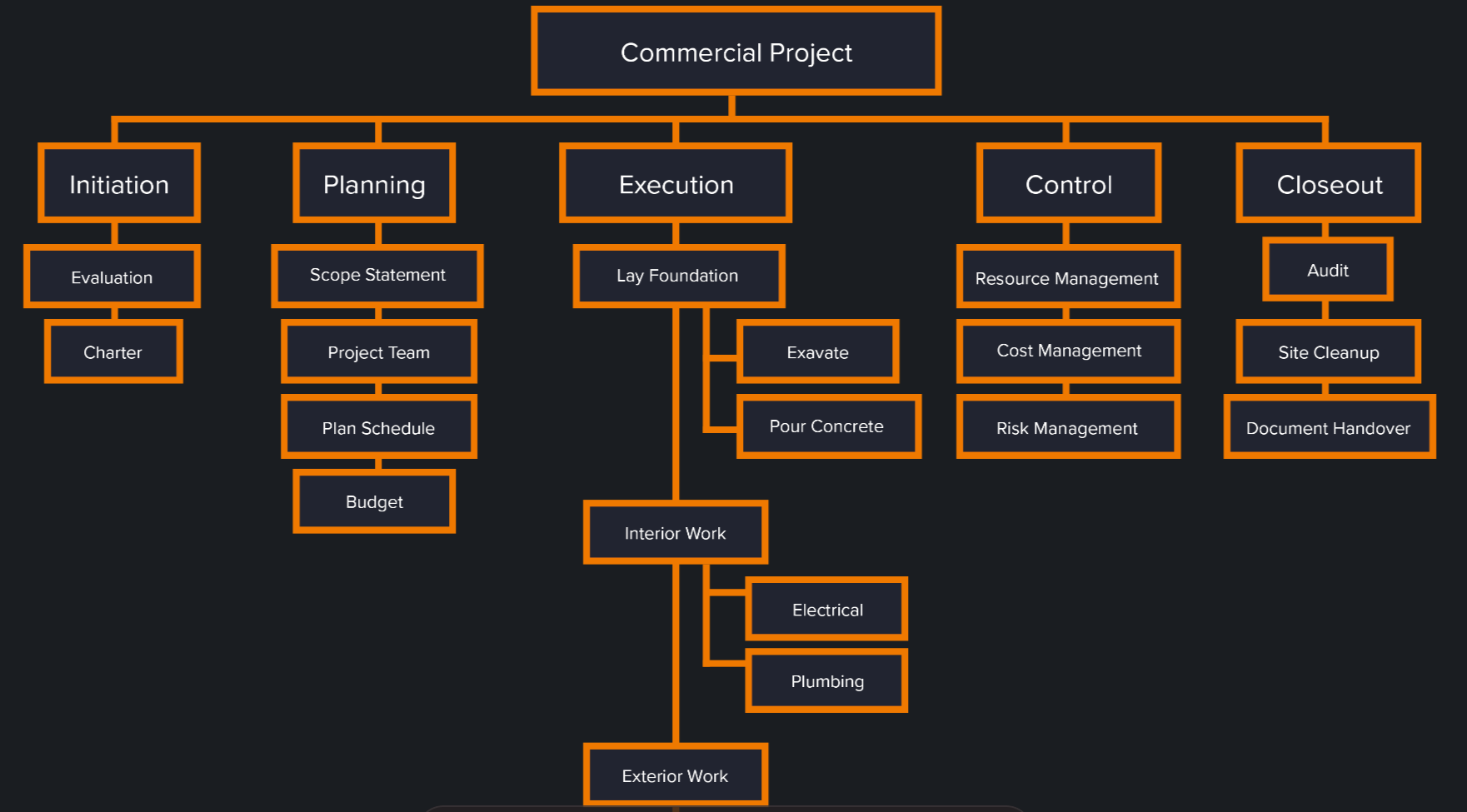 The benefits of a Work Breakdown Structure (WBS)?
WBS is an excellent tool for a project management company as it allows a project team to define the project schedule and resource requirements, predict and control costs, and reduce the number of unexpected events.
Ultimately the primary goal of a work breakdown structure in project management is to divide the team's work into manageable chunks to describe the overall scope of the project–resulting in increased productivity, time management and efficiency.
What is the importance of a Work Breakdown Structure (WBS) for Project Managers?
It is essential that a Project Manager considers how and when work will be completed. With the use of WBS, this provides a clear and precise visual representation for Project Managers of how and when small or large tasks need to be completed for a project. A WBS template also implies whether or not important tasks are being completed on time or require more attention. Having this visibility through the WBS template allows a Project Manager to maintain awareness of their projects and any potential impacts. 
Project Managers can apply a Work Breakdown Structure (WBS) in various manners for the purposes of:
Descriptions and expectations of tasks for projects 

Define the project's schedule of activities and tasks

Key milestones

Resources (both human and otherwise)

Estimation for time and cost

Quality requirements

Acceptance and audit criteria

Coded identifiers (when appropriate)
As the saying goes, "A failure to plan is a plan to fail." Making work manageable and visible through WBS is the key to success for any project management company. 
All things considered, Cloud Coach provides a functional, effective and transformative WBS structure on Salesforce that will serve as your backbone for your business. The next section will discuss Cloud Coach's unique WBS template made on Salesforce and the benefits it serves for project management.
The Cloud Coach Work Breakdown Structure (WBS) on Salesforce
Now that we've gone through the definition of a WBS and learned why they are an important asset to efficient project management, let's look at a WBS example layout created by Cloud Coach on Salesforce. 
Below is a snapshot of a WBS template example from Cloud Coach that provides a functional, effective, transformative and beautifully designed layout to keep a company informed on specific tasks, events and requirements.
This template created by Cloud Coach is called a Gantt Chart. Its uniqueness serves the purposes of reflecting task timing and views for a clear vision on a project pathway. This work breakdown structure example is presented by subphases to allow related work to be nested together for even more flexibility on the project plan. Additionally, tasks are represented via dependency across multiple phases and subphases allowing the project task to be organized with related work.
Cloud Coach's reliable version of a work breakdown structure will benefit you in the following ways:
Clear and concise details of tasks and subphases

Crisp details via Gantt, List, Phase and Kanban views

Display of time, duration and other details to collaborate with team members efficiently

Easy to drag & drop dependencies 

Optional use of colors to differentiate types of tasks

Helps project managers spot leaks on a project
Work Breakdown Structure (WBS) Summary
The process of decomposing work into manageable packages of tasks through a WBS structure can be applied to almost any project.
Whether your WBS is used in an agile or predictive methodology for projects large and small, it's important to consider how and when project work will be completed.
Project Managers should be equipped with a software that makes their work manageable. With Cloud Coach's sufficient WBS template, visibility of work is made clear effectively resulting in increased productivity, time management and project organization. All of which will further lead your team to success and integrate best practices into everyday lives.
Related Articles